A smart choice for a charter - sailing catamaran or monohull?
Nowadays sea charter tourism promptly gains steam and becomes more and more popular among our compatriots. The demand for sailing charters steadily grows, and so does the offer. In such situation beginners very often ask themselves a question: what vessel type is better to charter not to lose? The question is really difficult and important, because comfort and safety of the boat are those vital factors that directly influence your travel. Nowadays there are two types of a sailing vessels that claim to be the the best choice in the sphere of charter tourism: catamaran and monohull. In this article we would like to focus on advantages of a sailing catamaran and give their detailed description. So, let`s start:
1. Stability. Sustainable design of a catamaran allows it to feel pretty confident on the water and not to lurch during the voyage. Perhaps many will say that the property of a catamaran is to the detriment of extreme sensations on board and they will be right, because catamarans seldom heel more than 5 degrees. But in this case we receive safer and comfortable swimming, the people suffering seasickness in the majority feel well, products and drinks don`t roll from a table, and on the deck it is possible to pass freely.
2. Good navigation. The catamaran possesses one more indisputable advantage - this is navigation. The modern catamaran having the same length as the one-case yacht can sail on average 20 - 25% quicker with the wind on a stern floor. During fair wind the catamaran sail to 75 - 100% quicker than one-case sailing yacht. We don't consider sports yachts since in this case it is necessary to us to compare them with sports catamarans. We have cruise vessels with maximum level of comfort, from here there is an increasing of weight, sizes, the best quality of interiors finishing, more convenient catamaran management.
3. Small case deposit. One more pleasant bonus for fans to swim for a while on the shoal and to come nearer to hard-to-reach spots.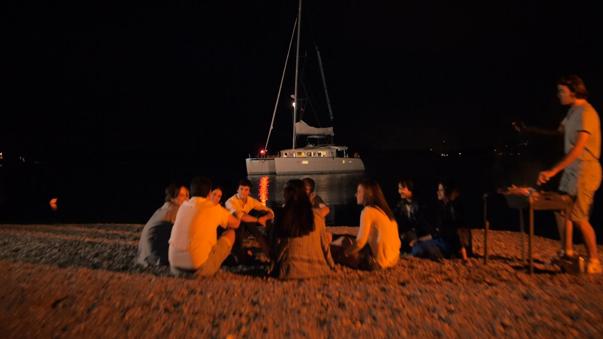 4. The catamaran is a big house on water. The scope and really homeliness of catamarans is estimated by overwhelming number of our clients. Wide decks, big cockpit (usually twice more than single-cylinder has), the huge salon, comfortable and lonely cabins - will allow each passenger on board to feel like the owner of a luxury beach mansion.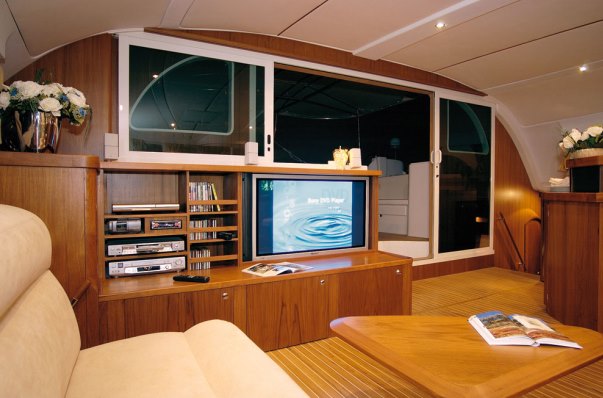 5. Safety. One of the most important reasons why sailing catamarans are so popular today on the market of sea tourism is their unsurpassed safety. The design of a catamaran is arranged in such a way that the real probability to turn over on it even at strong rolling is minimum, except that, it is almost unsinkable, in communication with what it doesn't need a ballast. You can watch video from transition through the Atlantic Ocean, the Bay of Biscay is more concrete - the catamaran sustained a storm of 7 points.
Catamarans are capable to remain on water even at the most serious damages. There is a wish to note with pride that the catamarans which are a part of Yacht Voyage fleet are designed on legendary shipyard Beneteau Cata-Lagoon CNB which is conveniently located in a seaport of Le-Sabl-d'olon in the southwest of France (province of Bordeaux). This shipyard releases more than hundred years sailing vessels of the highest class, so has won a huge respect from yachting and tourism experts. Catamarans of the Lagoon brand will wait for you on our yacht bases in Montenegro, Spain and Italy. Good luck with your travels!