Let's consider in more detail the sailing yacht and a sailing catamaran.
Strangely enough, but the catamaran is also the yacht. Because the yacht is any vessel for rest. But what is the difference, what is the catamaran? It is the two-case yacht. The difference between cruise yacht and a catamaran approximately the same, as between the motorcycle and the off-road vehicle such as INFINITY.

All our catamarans (here it is possible to compare and rent free yachts)...

The catamaran is a big and very comfortable yacht, it is practically the house on water. Some bathrooms (marine term is latrine), kitchen (marine term is galley) with a gas stove, big capacious lockers and the refrigerator, cozy big cabins with soft sofas, everything is created for the comfortable rest with friends or a family and even with small children. With the same length, as the one-case yachts have – the volume of inhabited space on a catamaran is twice more, because each of two floats is manned.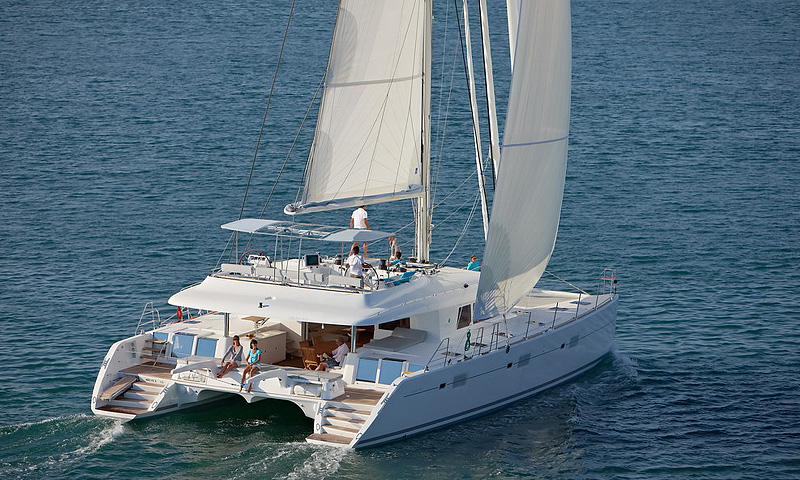 Unlike one-case yachts, the catamaran doesn't heel at a strong wave and wind (doesn't bend on one board) also moves on a water smooth surface smoothly. Therefore passengers of a cruise catamaran practically are not swayed and their stay onboard is at most comfortable. Small deposit of these courts allows to approach there, where common yachts can`t reach – to reserved shallow beaches with gold dust, and the hardware gives the chance to be in autonomous swimming far from a civilization incredibly long. Besides the catamaran consumes very few fuel and is able to sail, that does such rest economic.

Routes of travel, directions of cruises...








Our catamarans are an ideal option for sailing cruise: as with friends and a family or partners in business. They are also good for romantic or honeymoon trips. In fact, catamaran is a hotel on water, but the hotel in which there are no neighbors and there is no noisy city behind a window (illuminator). Smoothly cutting a smooth surface of water by the floats all shades of blue it will be as a magic carpet, which will transfer you to those surprising corners of light which you want. Only desire is necessary from you, and we by all means will carry out it. Fishing, diving, bathing or simply sailing travel with close people, either a noisy office party or celebration something scary important – only you can decide. You formulate a task – we carry out it.

The smell of the sea, unusual sea declines, noisy parties of the coastal cities or lonely life, you will solve by yourself, and we will offer you a miracle which costs nothing to touch, even if the world is not enough for you.

Here catamarans on types:
Lagoon 380 - the smallest, but no less comfortable,
Lagoon 400S2 - the updated and most popular type in Adriatic Sea
Lagoon 440 - an excellent choice for family sea tour
Lagoon 450 - an optimum catamaran - the size as the 500th and at the price as the 440th
Lagoon 500 VIP owner - the most comfortable and biggest catamaran, the real Hi-End in the world of yachts
Lagoon 500 charter - the most capacious catamaran for office parties and the big amicable companies.

To reserve the yacht...