YachtVoyage invites you to join the major yacht exhibition -Dusseldorf Boat show
The greatest yacht show in Europe will take place from 21 to 29 of January 2017 in Dusseldorf, Germany.
The show will present: sailing and motor yachts and catamarans, powerboats among other vessels and accessories associated with sea.
The yacht festival is hosted at the exhibition hall of 234 000 square meters divided in 17 pavilions.
A huge number of global shipyards, dealers, charter companies will come to join the Dusseldorf boat show again.
This historical event held annually has been welcoming exhibitors and delegates since 1969!
So what is the exhibition like?
The participants will present their advanced naval architecture ideas, equipment and accessories as well as yacht world and sport news, discounts for yacht charters from almost all the global manufacturers and charter companies. That is why if you consider buying a yacht, powerboat or cata, if you already stick to this idea your dream is probably being assembled at some shipyard and the boat show is a must for you!) The exhibition even gives one an opportunity to have a ?test drive?, to meet your boat 'in person' - this is the reason why the shipyards do their best to deliver to the show their genuine vessels instead of just showing catalogues and miniatures! You may even buy on spot.
If you just start considering to buy a yacht your choice is to explore various yacht types – motor and sailing yachts, monohulls and catamarans or maybe just a pontoon boat – these are the initial clients' concerns: what is better? Here you have the best opportunity to feel what is comfortable for you and get a quotation at once! Please pay attention to the fact that no web provides a price list for NEW yachts and the reason is that this product is highly customized and basic package price may grow 3 times depending on a client's needs)).
Meanwhile the participants are on their way to the show let's trace back a year ago:
spacious indoor pavilions
Really huge motor boats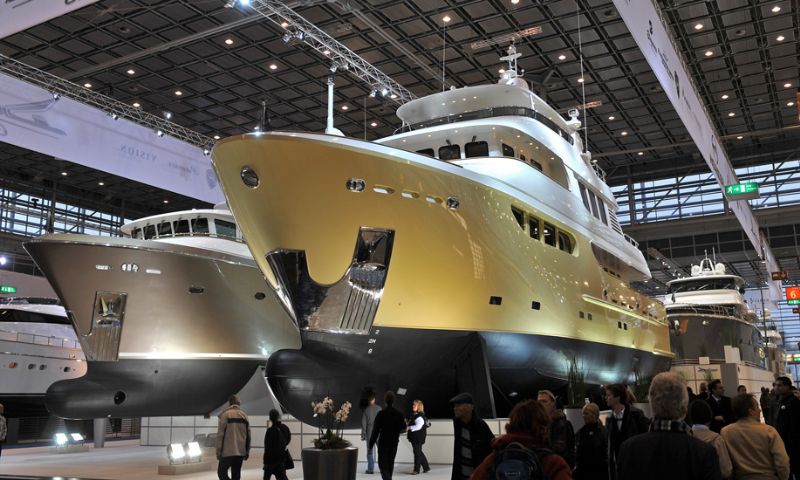 without mentioning engines, small motor and sailing boats, associated equipment and accessories.
Navigation equipment, water sports equipment, interior solutions, instruments, sea electronics and other devices, fishing solutions, even paintings and surely souvenirs – all these products were displayed at Dusseldorf.
There were held seminars and investor meetings for those who concerned or just took interest)). This time the show also has 2 scheduled seminars with payable participation for 95 and 195 EUR.
YachtVoage invites you to visit Privilege Marine shipyard!
As the official distributor of the French shipyard Privilege Marine the company Yacht Voyage has become a part of the show too and of course following the tradition you will be able to meet our representatives at the booth dedicated to sailing catamarans Privilege and monohulls Feeling - Booth A35 Hall 15. Last time we arranged a kind of excursion for our clients to the shipyard showing the manufacture process of the brand new model Privilege Serie 8 by Long Island that was presented in our catalogue.
Feeling supported the brand and presented a sailing yacht monohull for sports and leisure Feeling 52, the catalogue you may see here.
We cannot help mentioning sailing catamarans Lagoon that are the base of YachtVoyage charter fleet, their booth also attracted lot of delegates and guests of the show having displayed a new advanced version of a well-known Lagoon450.
Travel directions and rates
The company YachVoyage and shipyard Privilege Marine are glad to meet you at Booth A35 Hall 15.
Throughout the show the tickets and the catalogues will be available at all the entry points and the reception desk.
Having bought an electronic ticket at the official website of the show you will enjoy additional privileges – direct access without queues and a round trip transfer free of charge by means of public transport VRR. Moreover they claim to having cut the prices))))
The 1 day ticket costs 10 - 17 EUR (and even cheaper with web registration), for 7-12 year kids - 6 EUR, children up to 7 years visit the show for free.
Exhibition center address:
Messegelande Dusseldorf
Messeplatz, D-40474
Dusseldorf Germany
Working hours: Every day from 10:00 to 18:00
Here is the point on map
Meet you in Dusseldorf!
Last news
The next round of the Clipper round-the-world yacht race starts in Liverpool
Thousands of participants of the famous race will be able to wave farewell to their family and fans in the port of Liverpool, Albert Dock, on Sunday, 20 August 2017. Approximately they will return her
New sailing boats and equipment for yachts at Moscow Floating Show
The MBY Company already has an experience in organizing a boat show: within a few years, the magazine is arranging the Saint Petersburg International Boat Show. The idea of the Moscow exhibition combi
Shaddai. A fantastic yacht of the future
The main deck of this 150-meter yacht of the future accommodates a beach club and a second huge swimming pool with a transparent glass ceiling that serves as a floor for the higher level. This pool is
TOP-3 upgraded classic yachts
Taransay
Shipyard – Rossinavi

Release year – 2015
A 38.55-meter motor yacht Taransay is a vivid example of modern shipbuilders' addiction to the classic yachts.
It is