The main myths about yachting or lease of yachts
Yachting, gaining the increasing popularity in our country, recently managed "to acquire" the huge number of myths. Many people still haven`t decided yet to put out to sea under a sail of the yacht or a catamaran only because they have the incomplete or distorted idea of this surprising type of sports tourism. To correct this information "distortion", this article we would like to devote to a dethronement of the most popular delusions and stereotypes about yachting:


Myth No. 1
Yachting – pleasure for rich.
It`s not so. For example, the cost of a week charter of a sailing catamaran is comparable to rest in decent Turkish hotel. Certainly, if you want to become the owner of the magnificent vessel, here, of course it is impossible to do without essential investments and if to estimate expenses on the technical service and payment of parking in marines there is a quite serious sum. But in order that in the full measure to feel all delights of rest on the yacht, something isn't obligatory at all, to buy, rather simply to rent the yacht and to enjoy travel. Today practically all fans of yachting just take vessel for rent.


Myth No. 2
Yachting is a very difficult science
The control of the yacht really demands certain skills and knack. Surely to stand at steering wheel, it is simple to obtain the license and theoretical knowledge, of course, insufficiently, experience is necessary. But let's remember times when you took the wheel of the car for the first time: it was terrible and uncomfortable, but only some months passed and now you`re already a skilled motorist. Therefore for certain with the yacht and catamaran you will manage too. But besides, to admire a majestic decline in Sardinia from the deck of the sailing vessel, it is absolutely optional to be able to operate it, for this purpose there are skilled old salts – skippers!


Myth No. 3
Yachting is hazardous to health
Design of modern sailing yachts and, in particular, catamarans is that the chance to turn over and to sink on them in the high sea tends to zero. For this reason leading charter companies surely insure all crew for very large sums.


Myth No. 4
Yachting is boring and uninteresting
In total just the opposite. Many of those who time went to the sea on the yacht for the first will never exchange this surprising adventure for rest in hotel or on a beach. Rest on the yacht will open before you the unique opportunity to see the primitive nature of the most hard-to-reach spots of the planet. As the yacht is mobile, you will be able to make magic pictures near the exotic island without effort and then to moor to its coast and to arrange picnic on a wild beach open-air. Besides, on the yacht, as a rule, there is all necessary equipment for diving or fishing, so fans to dive with an aqualung and to fish precisely will find what to do. Therefore you have no time to miss on the yacht.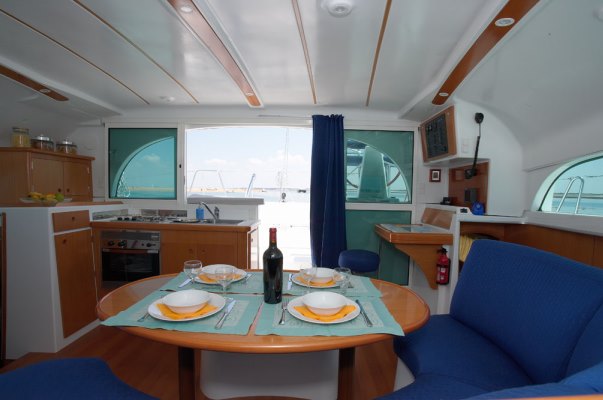 Myth No. 5
Yachting is not for fans of comfort
Really, many consider that the typical yachtsman is deprived by all benefits of a modern civilization and constantly is in extreme conditions. Many think that yachting is always a whole gale, bad weather, dangerous transitions, wet clothes, close cabins, lack of water and food. But it is only one more delusion and stereotype among beginners. Actually modern charter catamaran is magnificent mansion on water with the highest level of safety and comfort. Cozy cabins, spacious salon, kitchen and bathroom – all this is onboard therefore you won't even notice that at present you are in the middle of the boundless sea.
Friends, fight against the stereotypes and delusions, open new, then, perhaps the sea will become an integral part of your interesting life. Good luck with your travel!