If you are new to the world of yachting, the first thing you have to learn is the design of sailing yachts. It is a basic knowledge necessary for everyone who wants to be a yachtsman.
Ull of a sailing boat
After passing the boarding ladder, you will find yourself in a cockpit. Here stays the crew. The open cockpit is not railed off from the deck, and the closed one is isolated from the below deck rooms. The closed cockpit is usually self bailing, with the floor level higher than the water line. It is equipped with soil pipes that transport water overboard.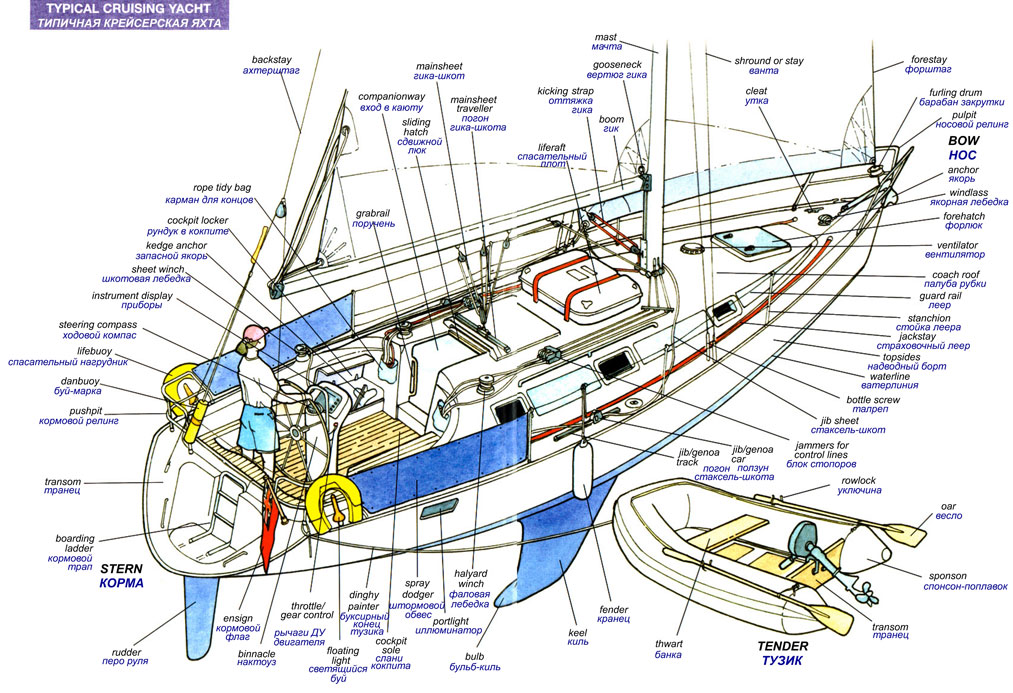 On pic. 1. General device of the yacht.
What can you see from the cockpit? You can conclude that the yacht consists of a hull and a rig. The hull is aimed for crew, guests and different equipment, and the rig includes the sails and all the devices necessary for their installation and control.
The front part of the hull is called "a bow", and the back is called "a stern". Overhanging parts of the hull are called "overhangs", the side surfaces of the hull are known as boards. The lower surface of the hull is called "a bottom". The back edge of the hull is called "a transom".
The deck made from wood covers the hull. The bow part of the deck is called "a forecastle", and the stern one – "an aftercastle".
Names of the other parts of the design of sailing yachts are shown at the picture below.

On pic. 2 the internal rooms of the pitching yacht:
The rig of a yacht
As we have already stated, the rig consists of the sails and controlling devices.
The sails work as the main engine of a yacht. They are divided into three sets: basic, extra and storm sails. The main sails are used in normal conditions, and when the storm starts, the smaller ones replace them.
The rig also includes the mast, the boom, the spinnaker boom, the yards, the spreaders etc. The cordage consists of the tackles made of ropes. The dead ropes serve for bracing and maintaining the mast. The running ropes are necessary for setting and takedown of sails.
In the next article about the design of sailing yachts, we will give all the particulars on the rig and the ropes.